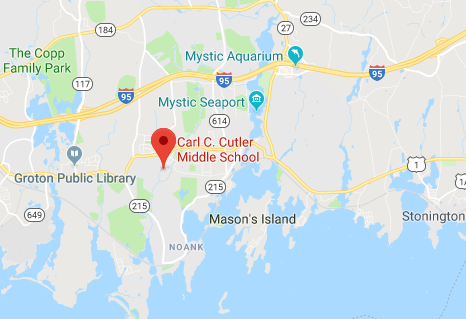 Published February 13. 2018 9:55PM | Updated February 13. 2018 10:53PM
By Erica Moser Day staff writer
e.moser@theday.com Erica_Faith13
Groton — More than 150 parents and fifth-, sixth- and seventh-grade students turned out to Fitch High School on Tuesday night for a presentation on the upcoming conversion of the town's two middle schools to intradistrict magnet schools.
Starting with the 2018-19 school year, West Side Middle School will become West Side STEM Magnet Middle School, while Cutler Middle School will become Cutler Arts & Humanities Magnet Middle School. Each school will still be open only to students who live in Groton.
"This magnet school opportunity that we have to enrich the opportunities for the students — all the students — in Groton is truly fantastic, and I couldn't be more excited about the journey we're about to begin," Cutler Principal Peter Bass said.
The panel included Bass, West Side Principal Jeff Kotecki and Superintendent Michael Graner. It also included three longtime teachers who have recently been named to new magnet-centric roles: Amy Murphy is the STEM coordinator at West Side, Leslie Forbes is the arts and humanities coordinator at Cutler and Kathy Wilson is the magnet school grant coordinator.
The information session and Q&A featured a few administrators referencing "state-of-the-art" equipment and facilities, and a few parents expressing concern that an 11- or 12-year-old is too young to decide between an interest in STEM or arts and humanities.
Zazil Villanueva commented to The Day after the presentation, "I can tell you that I don't like it, and the reason is because at this age — this young age — they need to explore different areas, especially when they are so good at both."
Her 11-year-old son, Andres Sardar, said he's not worrying that much. Villanueva said Andres will remain at Cutler, his districted school. This works out, considering Andres said he is interested in drama, chorus and band.
Middle school selection will be done through a random lottery, though parents wishing to keep children at their neighborhood school will get priority. Siblings will also get priority to attend the same school if they wish, though parents may also split their kids between West Side and Cutler.
There will be another program on the magnet transition at Cutler on March 13 and one at West Side on March 14. Administrators should then be able to answer some of the questions they couldn't answer on Tuesday.
The lottery will be conducted in April.
Graner assured attendees that the core curriculum will remain the same at both schools, but that curricula will be delivered in a themed manner.
For example, West Side will be using Project Lead The Way STEM curriculum, and the school is expanding its partnership with Project Oceanology beyond sixth grade to include seventh and eighth grades. A new partner is the New England Science & Sailing Foundation.
Students "will go their site in the Stonington Borough, but they will also be going to places like Bluff Point and be doing experiments and field work around ecology and conservation," Murphy said.
Forbes said that Cutler will have an audio-visual production lab where students can do voice recordings, write scripts, make short films and more. Cutler's partners include Mystic Seaport, Mystic Museum of Art and Arts for Learning.
The magnet transition is enabled through a five-year, $4 million grant through the federal Magnet Schools Assistance Program. This provides for the salaries for Murphy, Forbes and Wilson, along with two additional buses for Cutler and two for West Side.
Bass said the grant was written based on results from a parent survey administered a few years ago, which identified STEM and arts & humanities as popular options.
Bass said the grant funds are almost equally split between the two schools. He is not positive about magnet school financing in five years, but said there is the possibly for the district to reapply for grant funding. Bass also noted that the district will see some efficiencies after the new middle school — into which West Side and Cutler are consolidating — opens in 2020.