Heather Renwick — Chair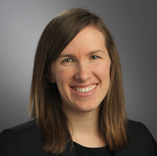 Heather works as Legal Director at the Campaign for the Fair Sentencing of Youth (CFSY), a national organization dedicated to age-appropriate sentencing practices for all children in the United States.
Prior to joining the CFSY, Heather worked as an attorney at WilmerHale in Washington, D.C. and a Fellow at the Children & Family Justice Center in Chicago. Heather is a Chicago native and received her JD from Northwestern School of Law.
Prior to law school, Heather researched issues of human trafficking in Bulgaria as a United States Fulbright Fellow. She also worked in Washington, D.C. and Nairobi, Kenya on issues of pre-trial detention and violence against children.
Throughout her career, Heather has been committed to ensuring that all children are given the opportunity to thrive. Arts of Learning Connecticut provides critical opportunities for all members of our community--and children in particular--to learn and grow creatively through the arts.