STATE STREET MURAL PROJECT
---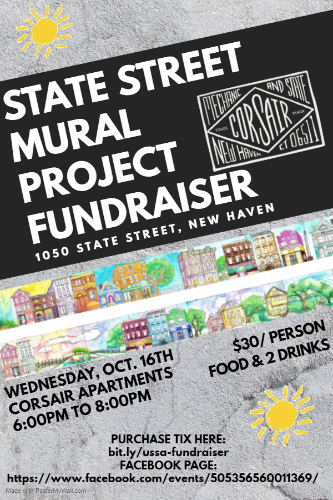 MURAL FUNDRAISER!
The Upper State Street Association is Hosting a Fundraiser at the Corsair Apartments!
$30/ Person
Food & 2 Drinks Included 
Wednesday, Oct. 16th, 2019
Corsair Apartments
1050 State Street, New Haven 
6-8 PM
---
UPDATE
The Start Date is Still TBD. The State of CT DOT and the City of New Haven are communicating about permits and logistics. We apologize for the delay, but we assure you things are still a go!
*All monies raised we be returned in the event of total cancellation.*
*UPDATED DESIGN*

That's the latest for the State Street Mural Project, a collaboration among the Bradley Street Bicycle Co-Op (BSBC), Arts For Learning Connecticut, the Upper State Street Association (USSA) and local artists Alex Novak and Anika Stewart. Earlier this year, the project received $8,000 from the Could Be Fund, a project of the Elm City Innovation Collaborative. As they work to reach matching funds by the end of the fiscal year, artists plan to begin priming at the end of the month.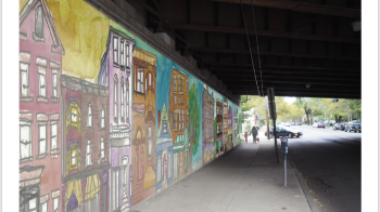 Arts for Learning CT along with the Bradley Street Bike COOP In New Haven are collaborating on a mural project on the Trumbull Street underpass on the corner of State Street and Bradley Street in New Haven this summer! We will be employing volunteers from the community to help paint the mural as a beautification project. CHECK HERE in the coming weeks for updates on COMMUNITY PAINT DAYS.
Please help us raise $8,000 we need to install the mural! Reaching this goal will qualify us to receive matching grant funds for the mural!
We have raised $4,500 so far!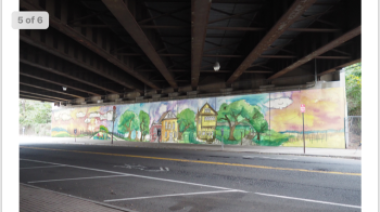 Upcoming Dates to Save:

Fundraising Event at the Corsair: Fall 2019
Priming Day at the Mural Site
*DATE POSTPONED* Approvals Pending. Do not worry, we are still a go!
Corner of State and Bradley Streets, New Haven
(Across from September in Bangkok Restaurant)
12 Noon
Updates will be posted on Instagram @state_street_mural .
Follow us on IG: @state_street_mural
Photos from the Fundraising Potluck June 2nd