STATE STREET MURAL PROJECT
---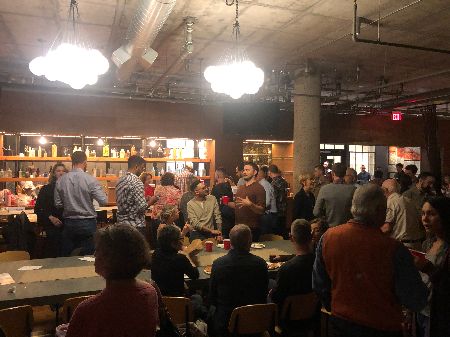 WE REACHED OUR FUNDRAISING GOAL!
We have officially raised $8,000, which means we have all the money we need to begin!
THANKS TO CORSAIR APARTMENTS FOR HOSTING OUR FINAL FUNDRAISING PARTY!
THANKS TO L'Orcio, Decor Vintage Market, Sari Paints, and Jordan's Hot Dog and Mac for their Silent Auction Donations!

THANKS TO Restaurants who donated food and drink: 
Portofino, September in Bangkok, L'Orcio, Blessings II Go, Marjolaine's, Christopher Martin's, Chestnut Fine Foods, Modern, Next Door, Da Legna, Oak Haven, Cave a Vin, JP Dempseys, and Ivy Wine.
THANK YOU TO our organizers and volunteers: Brian from CM's, Dan from Oak Haven, Dennis & Carmela from Dempsey's, Kai and Ramesh, and Erica & Allison!
THANK YOU TO Michael Harris from Could Be Fund, Bob Frew, John Martin of Bradley Street Bike COOP, Abby Roth Ward 7 Alder, and artists Alex Novak Foster and Anika Stewart!
---
UPDATE
The Start Date is Still TBD. The State of CT DOT and the City of New Haven are communicating about permits and logistics. We apologize for the delay, but we assure you things are still a go!
*All monies raised we be returned in the event of total cancellation.*
*UPDATED DESIGN*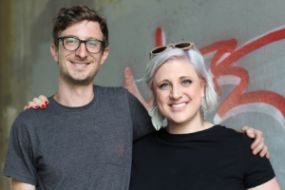 That's the latest for the State Street Mural Project, a collaboration among the Bradley Street Bicycle Co-Op (BSBC), Arts For Learning Connecticut, the Upper State Street Association (USSA) and local artists Alex Novak and Anika Stewart. Earlier this year, the project received $8,000 from the Could Be Fund, a project of the Elm City Innovation Collaborative. As they work to reach matching funds by the end of the fiscal year, artists plan to begin priming at the end of the month.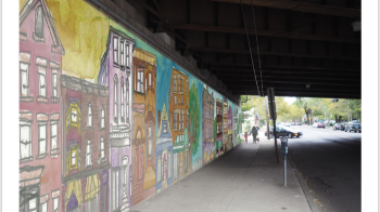 Arts for Learning CT along with the Bradley Street Bike COOP In New Haven are collaborating on a mural project on the Trumbull Street underpass on the corner of State Street and Bradley Street in New Haven this summer! We will be employing volunteers from the community to help paint the mural as a beautification project. CHECK HERE in the coming weeks for updates on COMMUNITY PAINT DAYS.
We have met our fundraising goal of $8,000. Thanks to the residents of East Rock, and the businesses in the Upper State Street Association!
Follow us on IG: @state_street_mural
Photos from the Fundraising Potluck June 2nd